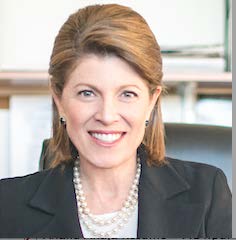 Secretary and Co-Founder
Linda Rebrovick is a Senior Client Partner, Morgan Samuels. She is responsible for client relationships, and executive and board director retained search for both public and private companies. Linda's business and board experience includes over twenty-five years as an executive officer, five years as an entrepreneur, and twenty years serving as a board director.

Linda currently serves as a Director on the Boards of HealthStream, Inc., leading healthcare workforce development and patient experience company, and Tribridge Enterprises, LLC, global cloud solutions and business technology services company. She serves as a member of the advisory board of Western Express, Inc. and previously held board directorships with KPMG LLP, and Pinnacle Financial Partners.

Prior to joining Morgan Samuels, Linda was a candidate for the office of Mayor, Metropolitan Nashville and Davidson County Government, and CEO, Consensus Point, global provider of innovative prediction market research software-as-a-service (SaaS) solutions. Linda was previously the Chief Marketing Officer, BearingPoint, Inc. There she led the global marketing organization during the company's IPO and managed the successful rebranding of the global consulting business in 40 countries.

As Vice President, Dell Healthcare, and EVP, Managing Partner, Healthcare, KPMG Consulting, she was responsible for full-service business consulting, including process improvement, organizational analysis, and the design and implementation of healthcare technology solutions. Linda began her career with IBM as a Marketing Representative, Marketing Manager, and Business Unit Executive.

Linda holds a BS in Marketing from Auburn University and was selected as one of their Top 400 Women Graduates of the past 100 years. As a civic and community leader, Linda serves as the co-chair and co-founder of Women Corporate Directors, Tennessee, founding Board Director of the Nashville Entrepreneur Center, Trustee of the Board of Leadership Nashville, and she previously served as the Board Chair of the Nashville Technology Council.